Digital marketing sector requires experts who are holding digital marketing certificates and up to date with the latest developments and trends.
Here is why: Digital marketing is an ever-changing field with talented and inspiring experts who allow businesses to stay at the top of the competition.
Regarding the rapidly changing user and consumer behaviour, digital marketing has become even more elaborative. That is why featured digital marketing agency jobs usually require high skills that are proved with digital marketing certificates.
Online digital marketing certificates are not only precious to show your skills and also practical to hold. Since the digital marketing sector is the one with multiple training areas withing different sub-categories, you can find a great number of certificate programs in which you have an opportunity to obtain digital expertise.
If you are looking for a job in a prestigious and leading company in digital marketing, so you must consider earning advanced digital marketing certification. You can see the best digital marketing resources here, including various opportunities to educate yourself in digital marketing.
Best Online Digital Marketing Certificates for Marketers
Below, we will compile the most popular online digital marketing certificate programs, including both free and paid courses. You can check out their features and contents to choose the best online digital marketing certificates that can fulfill your needs.
Google Analytics Certification
Among the essential tools of digital marketing, Google Analytics allows you to collect and analyze website traffic data. As with the other tools, Google determines your level of knowledge about the tool by providing a certificate with an exam upon Analytics.

It is just one of Google digital marketing certifications that you can get by improving yourself through Google Analytics Academy.
To begin, you should open an Academy for Ads account and go over two courses named Google Analytics for Beginners and Advanced Google Analytics to pass the exam. We suggest you get this certificate before applying for a job in digital marketing since it is considered a highly recommended skillset for the marketing industry.
The certificate is valid for 12 months from the exam date, and it is free for all the course attendees. To get more detailed information about the course and its content, you can get started by visiting their website.
Google Ads Certification
Google Ads Fundamentals Certificate is a free digital marketing certification program that is one of the touchstones of digital advertising. Google helps you learn about the digital world by providing a variety of educational content on its platform.
There are also Google Ads training contents on many different platforms. Google issues various certificates for each advertisement model included in Google Ads. You can have certificates by developing yourself on Google Ads and taking the exams.
Among the most popular and reliable certificate programs, Google Ads courses allow you to learn how to advertise a business online successfully with online ads and social media campaigns. If you are looking for a job in digital advertising, this certificate will definitely be helpful for you to get the job.
Its content and implications can be useful for especially PPC experts and Ads professionals since the exam consists of six parts including AdWords fundamentals, search advertising, display advertising, mobile advertising, video advertising, and shopping advertising.
Hubspot Content Marketing Certification
Recently, content is accepted as the king of the digital world since it is one of the significant elements that directly influence all other online strategies and digital marketing tactics.
The Hubspot Content Marketing Certification is a professional certificate program that will be beneficial for your career and profession. It is reliable in terms of course objectives and content quality.
The duration of the certification program is approximately four hours covering the various aspects of content marketing, such as content promotion, content creation framework, and content analysis. Those skills are among the necessary qualifications of being a professional in content marketing.
Recruiters in the field of digital marketing always look for candidates who are proficient in content production, writing, and communication skills. Therefore, certificates provided by Hubspot can be recognized as a prerequisite to making your knowledge superior in digital marketing, and the best part of all is that all the certificate programs are free!
YouTube Certification
As the most efficient and engaging content format, being a certified expert in video marketing, especially in YouTube marketing. YouTube is the second largest search engine after Google, so a certification from this platform conveys credibility.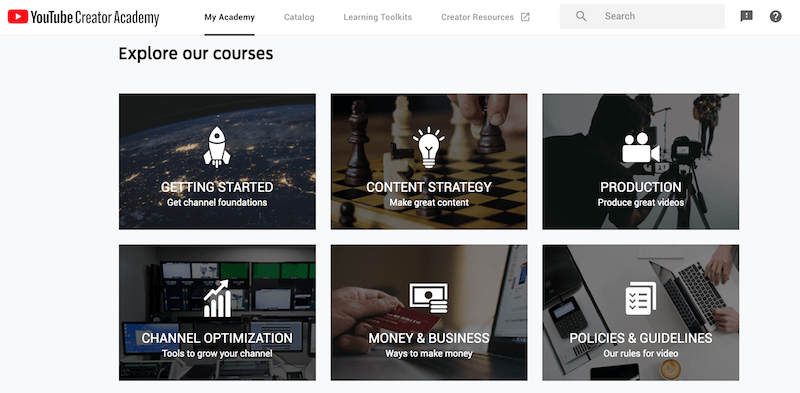 YouTube Creator Academy presents lots of opportunities and online educations for both beginner and advanced content producers. Its tutorials provide you with the most current practices in the digital world and also advanced industry-related knowledge.
The duration of the tutorials varies across the subject areas, and all the courses are provided for free targeting all content creators and users on YouTube.
Since video creation is a highly sought-after job skill, it is vital to obtain a well-defined video content strategy through favourable courses and certificate programs. Create an account on YouTube and get started with this free digital marketing certification in a few seconds.
Hootsuite Social Marketing Certification
Hootsuite is the most popular and reliable social media management platform preferred by numerous marketers. Through the Hootsuite Academy, it offers a wide range of social media training that will help you to boost your knowledge in social media management and set yourself up as a remarkable candidate for your target position or job.
Hootsuite provides an advanced digital marketing certification program involving 15 lessons and assessments. If you succeed to pass the exam at the end of the lessons, your certificate will be valid forever since you will prove that you have the necessary qualifications and knowledge of social media marketing.
There are three different offers by Hootsuite on social media certification. The first one is the social marketing certification that costs $199 with the basic content mostly for beginners.
The second is the advanced social advertising courseware and certification, which costs $249, and the last type of certification is the advanced social media strategy with greater and more comprehensive content priced at $999.
The Digital Media and Marketing Certificate by Duke Continuous Studies
Duke University offers the Digital Media and Marketing Certificate through the Office of Continuing Studies. The syllabus of this certification program involves search engine optimization, content marketing, mobile marketing, PPC practices, web analysis, and much more concerned with the digital marketing field.
This online self-paced program is a comprehensive and non-credit program in which the applicants are required to be fluent in reading and writing in English.
They also need to have technological literacy and internet connection throughout the course duration. It includes 350 hours of online lectures, and it lasts for 12 months to complete the course. The requirements are completing the requisite module and six advanced modules that you can pick out of a variety of modules.
You can register for the digital marketing course all the time, and the overall cost is $ 3,195 all required and optional modules included.
The Digital Marketing Institute Certified Digital Marketing Professional
Offering a comprehensive digital marketing course delivered 100% online, the Digital Marketing Institute (DMI) is at your service with its rich content including social media marketing, SEO, Google Analytics, mobile marketing, digital advertising, and much more.
The institute states that it has trained more participants to a single digital marketing standard more than any other certification program. Both beginners and advanced applicants will take advantage of the program handled by digital marketing experts.
How can you get started or improve yourself as a digital marketing professional? This certificate will be a milestone in your career. You can visit their website and sign up for a course to get your professional diploma. It has a flexible schedule; however, you need to check the enrollment period. The price for the full course is $1190.
Facebook Blueprint Certification 
Recognized as the giant of social media, Facebook is one of the companies dominating social media advertising. Facebook Blueprint is a training program put into practice by Facebook, consisting of multiple educational contents suitable for all levels.

Since Facebook boasts almost 1.5 million users and around 22 billion clicks per year, it would not be wrong to say that Facebook Blueprint is the best source and the best certificate for social media advertising. The program explains all details about advertising on Facebook and Instagram, and it can be a good reference to show your social media skills when applying for a job.
The program includes eight certifications concerning digital marketing associates, media planning, and advanced marketing development. The actual price can vary across different countries, but the average cost for each exam is around $150.
---
All those online digital marketing certificates can help you to get started in the digital marketing industry or enhance your skills through techniques and best practices.