Digital marketing techniques have revolutionized rapidly over the last five years. The advancement graph seems to elevate further and shows no signs of lagging. Artificial Intelligence (AI) has become a significant entity in the realm of digital marketing. However, there are some AI challenges which we should expect to see in the digital marketing world.
Whenever we listen to the word Artificial Intelligence, a glimpse of science fiction movie flashes before our eyes. But in reality, AI has assisted several small and large-sized firms with their productivity and profitability.
The entrepreneurs of the modern era can hardly slip up on its cutting edge benefits. AI-powered tools have introduced marketers with new methods of advanced advertising, enabling them to understand sales cycles and their targeted consumer behaviors. An organization that neglects the importance of AI is likely to suffer from a downfall in the upcoming years.
Role Of AI In Digital Marketing
An increasing number of marketers depend on AI technologies to gain customer loyalty in the digital age. AI works by feeding data into embedded systems that combine with iterative processing and smart algorithms, allowing the software to perform according to the assigned patterns. It enables managers to make the data-oriented decision, which in return enhances the overall revenue of the business.
There are numerous implementations of AI in the field of digital marketing. It assists companies in increasing their customer pool and also facilitates them to automate existing client engagement models. In the future, we will witness a lot of firms employing chatbots to deal with their client's inquiries.
It has reduced human dependency on various tasks such as content creation and curation, to boost customer conversion rates. It will also play a significant role in understanding the needs and wants of the general population effectively and then map their marketing strategy accordingly.
How To Get Help From An AI Tool?
As a marketer, it has never been easy to optimize campaign performance at scale and enable real-time direction changes without the need for data science expertise.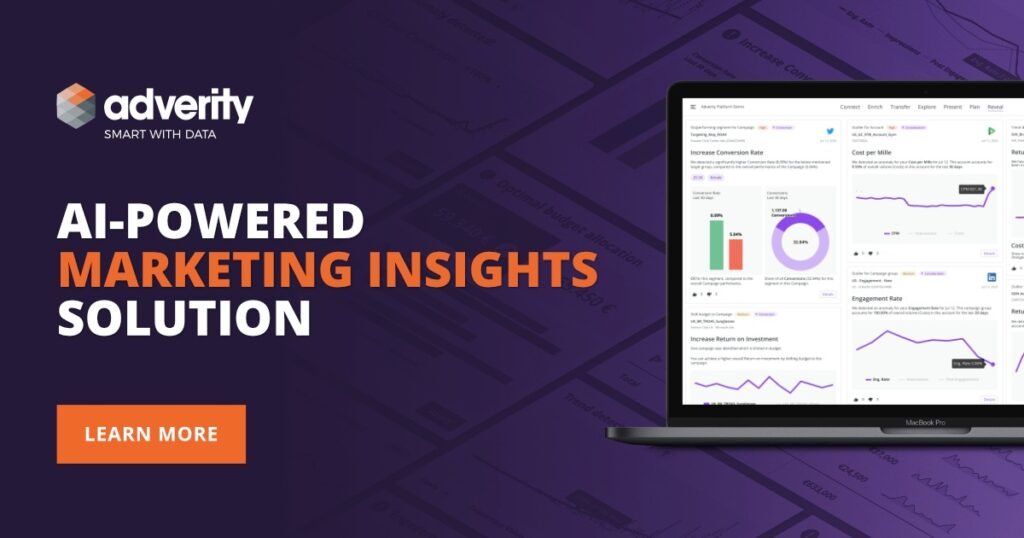 Adverity's Augmented Analytics module is an industry game-changer that gives you full control over your marketing activity and empowers you and your team with the ability to detect emerging trends, potentially unnoticed sudden KPI changes and maximize your marketing ROI by focusing available budget on the right campaigns and segments, while eliminating a significant amount of manual effort and releasing resources for higher-value activities.
Learn how Adverity's AI features can help you scale your marketing efforts or get a free demo to see the tool in action today!
AI Challenges For Digital Marketers In The Future
The extensive influence of AI in digital marketing in 2020 shows the significance of this innovation in the modern marketing world. As we have almost stepped into the new year, we need to gear up ourselves for the AI challenges that 2021 will pose to the digital world. So, before the competition gets tough, buckle up yourself by checking out the top five AI challenges of the future to prepare yourself in the best possible way.
1. Continuously changing AI trends
Most of the business tycoons believed that optimizing AI to promote business is a smart marketing strategy. They are driving their potential efforts to incorporate such systems and achieve their ultimate goals. But their journey to an AI-assisted success sometimes slows down by the constant changing AI environment.
The CMOS finds it very challenging to upgrade employed software and make them adaptable to the upcoming trends. For instance, if a breakdown occurred throughout this up-gradation period, it can pose the organization with the risk of losing codes and valuable data. Restoring this extremely propitious data is a costly and tiresome task.
2. Deficiency of high-quality data 
To grow your business in the digital era, you must comprehend the importance of quality data in improving the marketing approach and boosting overall sales. However, data scarcity has become one of the major roadblocks for the AI to strike its highest production levels. Various AI projects lose their practicality due to siloed, erratic, and poor quality of data.
The humans of the modern world have witnessed access to more data in the present time than ever before. But in reality, the datasets that are appropriate to AI applications are quite uncommon. Still, entrepreneurs believe that there is a light at the end of the tunnel. Organizations are utilizing their promising resources to structure the competent method and make AI models learn in spite of the shortage of data.
3. AI demands high investment
Cost is another crucial element that needs to be kept in mind while implementing AI in your business strategy. Organizations are heavily investing in this sector to add an AI platform to automate the existing processes and enhance the user experience. The leading companies of the world, such as Google, Facebook, Apple, Microsoft, and Amazon, have already invested in Artificial Intelligence for augmenting their future growth.
One of my colleagues, who own a drive jacket business endured that, start-ups that desire to implement such smart systems but lack skilled employees, frequently need to outsource. This approach gives rise to different issues related to the cost and maintenance of AI procured software. Furthermore, AI requires more computational power than traditional algorithms, so substantial investment will be a prerequisite of robotizing your business operations with the aid of AI technologies.
4.Ethical Concerns
AI can be creepy for some individuals, while others consider it as a striking phenomenon. Like it or not, AI has imbued in our reality. Digital marketers believe that AI is helpful for business growth and trying their best to utilize it in the best possible way. But with an abrupt advancement in AI, various moral issues have sprung up. These include:
Job loses
The advantages of AI keep on developing, which will guarantee that innovation is setting down deep roots. AI-based technologies have become a principal threat to skilled labor. In contrast to humans, machines don't require frequent breaks or refreshments. Organizations and society should figure out how to utilize AI and make changes accordingly. Companies should incorporate AI to remain competitive, and laborers need to upgrade their skill set to retain employment.
Potential risks associated with AI
We are super busy preparing ourselves for the future, in which the human race is massively surrounded by incredibly smart machines. But we are unaware of the perils posed by AI in its current form. Humans of the contemporary world admire AI-powered machines due to their productivity and viability. However, the misalignment of AI-driven devices with our objectives can result in severe casualties.
Unfortunately, in the wrong hands, artificial intelligence can be modified to accomplish something risky and profess serious concerns. Its example can be observed in the case of autonomous weapons, which are deliberately programmed to kill. These weapons, once deployed, are hard to dismantle. It typically implies that AIs should be trained in such a way that their outputs shouldn't provoke any threats.
Invasion of privacy 
The vast majority of AI applications depend on enormous volumes of data to learn and make smart decisions. AI core relies upon the information which is delicate and personal. Because of this orderly learning, these frameworks can become prone to data breach and identity theft. European Union has executed the General Data Protection Regulation (GDPR) that ensures the complete protection of individual's information.
The clients are becoming aware of privacy concerns. As everything is progressing in the direction of AI integration, websites are reshaping their security strategy to keep clients mindful of the most recent changes.
5. Fewer use cases in the market
Artificial intelligence needs more use cases in the market to get immense support from the business sector. Without observing its practical examples in the market, no association would be intrigued to invest in AI-based projects. Furthermore, there are only a few individuals and organizations who can comprehend the vision of machine-controlled advancement on the planet.
In simple terms, there are not enough people who are skillful enough to operate these smart machines which think and learn by themselves.